"With a touch of nostalgia and a lot of good humor, Appointment with Yesterday by Stratakis celebrates the passage of time as Yanni reflects back on his life and legacy, his heritage, and his choices and actions over the years. His story offers hope in the never-ending search for the 'sweetness of life.'" ~ Pallas Gates McCorquodale for Foreword Clarion Reviews
"Appointment with Yesterday is a moving account of a young man's coming of age and a well-crafted depiction of immigration, alienation, and triumphant assimilation." ~ Lisa Butts for IndieReader
"Christopher Stratakis creates a beautifully written coming-of-age story placed during a turbulent, historical time in the rich and lively country of Greece." ~ The iRead Review, starred review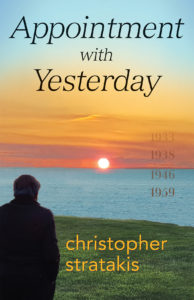 A poignant and compelling first novel, Appointment with Yesterday tells the story of Yanni, a cheeky and delightful Greek boy growing up in a small town on an island in the eastern Aegean.
Left in the care of his loving grandparents, Yanni endures the deprivation and terror of the German occupation during World War II, and finally leaves his beloved homeland and family to rejoin the parents who had left him behind to make a better life for themselves in America.
Filled with heartbreaking and heartwarming stories of love, devotion, disenchantment, and dashed dreams, Appointment with Yesterday is, ultimately, the story of hardships overcome and a determined boy's journey toward finding his destiny.
Available at Amazon, Barnes and Noble, and IndieBound.