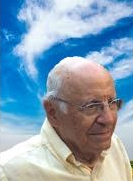 Christopher Stratakis was born and raised in Greece. After moving to America, he graduated from Drexel University in 1951 and New York University School of Law in 1955. Shortly after joining the law firm of Poles, Tublin & Patestides in 1960, he became a partner, specializing in admiralty and corporate law.
He has written and published several articles, lectured on professional and historical subjects, served as Legal Advisor to several non-profits (pro bono), and was an arbitrator in maritime disputes. He is the author of Mnimes "Memories" (2010), a book of essays, short stories, and poems that he wrote as a teenager. In 2015, he co-edited Chians on Parallel Roads, a book published by Panchiaki "Korais" Society of New York. In recognition of his extensive community involvement, he has been the recipient of several awards from religious, governmental, and educational institutions.
Mr. Stratakis lives with his wife in New York City. He is the proud father of three and grandfather of three. This is his first novel.